______________________________________________________________________________________________________

Patients' Testimonies

Hanover Congress on Tourette Syndrome, Tic and hyperactivity -

Hanover (Germany) - 9
-11 oct 2008
Patients Poster's Abstract:
"Cannabinoids : A Possible Treatment For ADD/ADHD: Views of Patients", LB M.Sc.A.Ing. (Fr) and NW (Lux), oct. 2008



Testimonies on RX Marijuana (Dr Grinspoon - Harvard / web site)

Testimonies on UK CIA (UK)

Testimonies on MPP (USA)

Brenda Stardom Testimony (USA)

Sam's Story Using Medical Cannabis to Treat Autism Spectrum Disorder





_____________________________________________________________________________________________________

Doctors' Testimonies
ADHD section / Marijuana Medical Handbook : Practical Guide to the Therapeutic Uses of Marijuana - Dale Gieringer, PhD., Ed Rosenthal, Gregory T. Carter, M.D.
Article (doctors recommendation) by Deborah Malka MD, PhD (California)
"[...] it may be fair to say that cannabis would be recommended more to treat adult ADD/ADHD than for a childhood diagnosis. Nevertheless, when faced with the effects of a stimulant versus the effects of marijuana, a more prudent choice may be the herbal compound."
Article : What have California Doctors learned about Cannabis? F. Gardner (California)
"In my opinion, there is no better drug for the treatment of anxiety disorders, brain trauma and post consussion syndrome, ADD and ADHD, obsessive compulsive disorder, and post-traumatic stress disorder"


"No other drug works like cannabis"

"People who were formerly dependent on alcohol (...) have had their lives changed when substituting with cannabis"

"I believe that cannabis and psychotherapy work well together in fosterin behavioral changes"
J. Hergenrather M.D., California.
Article : David Bearman M.D. (California) : Cannabis and ADD
Article : David Bearman M.D. (California) : ADHD and Endocannabinoid System
Article : David Bearman M.D. (California) : Cannabis and ADD #2
Article : David Bearman M.D. (California) : ADHD : Medicinal Marijuana Breakthrough (2006)
Article : Dr Leveque (Oregon) : Autism, ADD, ADHD and Marijuana Therapy (2008)
Article : Cannabis as Medical treatment for ADHD (California)
"Cannabinoids are a very viable alternative to treating adolescents with ADD and ADHD. I have a lot of adult patients who swear by it"


Dr Jensen, M.D.,California.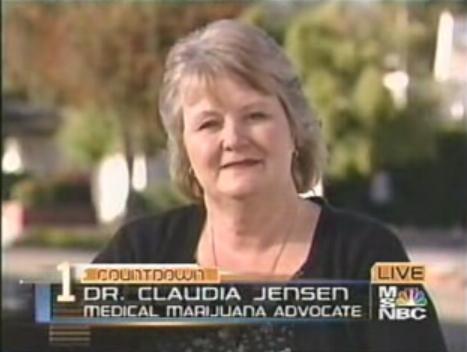 "Although ot flies in the face of conventional wisdom, it's nevertheless true that cannabis is far safer and more effective than the prescription agents currently advocated for treatment of ADD-ADHD"

Dr O'Connell, M.D., California.

Article (Harm Reduction Journal): Dr Tom O'Connell Study on 4117 applicants (California)
"A significant percentage of male applicants (...) had been treated or evaluated for treatment with Ritalin or other stimulants for ADHD as children"
"(...) reduction of work related anxiety seems a major factor in deciding to apply for legalized use of cannabis"
Article (Dr Tom O'Connell) : Cannabis Use in Adolescence: Self-Medication for Anxiety (California)
"There is a universal agreement among applicants who have been diagnosed with and/or treated for ADD that cannabis helps them achieve and retain focus. They also are the ones most likely to use cannabis early in the day"
2002 California poll / Marijuana and brain disorders
"The leading disorder on the poll was Bipolar disorder (...). Second in number was ADHD/ADD"
"Tom O'Connell indicates that ADHD/ADD is found as a contributing factor in hundreds of patients in astonishing frequency"
Article : Marijuana and ADD by Kort E. Patterson (USA)
"Medical Marijuana slows the brain down sufficiently to achieve impressive improvements in functionality"
Article : 10 years of legalized Medical Marijuana in California. F. Gardner (California)
"Patients treated for ADHD : 92 patients (...)"
Article : California Medical Survey : The Adverse Effects of Marijuana, F. Gardner, Nov 2006
Article : Marijuana as Wonder Drug, L. Grinspoon (Harvard), March 2007
Article (2008) : Oregon Doctor Answers Reader's Questions on Medical Marijuana and PTSD (Video)
Article : Cannabis Eases Post Traumatic Stress Disorder ( PTSD ) , Tod Mikuriya MD, Journal of the California Cannabis Research Medical Group (2006)
Article : PTSD and Cannabis : A Clinician Ponders Mechanism of Action, D. Bearman MD,
Journal of the California Cannabis Research Medical Group (2006)
Article : Cannabis for British ADHD children? (2008)
Article : Marijuana Replaces Ritalin in treatment for ADD-ADHD
List of Californian Medicinal Cannabis Praticians (

Cannabinologists

)